Hummus
Hummus is a delicious and versatile dip that is perfect for any occasion. Made from chickpeas, tahini, lemon juice, and spices, this Middle Eastern dish is packed with flavor and nutrition. Whether you're looking for a snack to enjoy with your friends, a healthy option to add to your lunch, or a flavorful side dish to serve with dinner, hummus is sure to please. In this blog post, we'll show you how to make a classic hummus recipe that you can customize to your liking. So grab your ingredients and let's get started!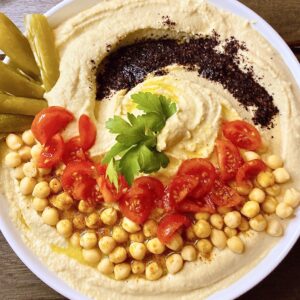 Hummus
Is a delicious spread or dip made from chickpeas, tahini, lemon, and spices. It's commonly eaten in the Middle East and the Mediterranean. 
Print
Pin
Ingredients
400

gram

Chickpeas

60

ml

Tahini

60

ml

Fresh lemon juice

1

clove

Minced garlic

1/2

teaspoon

Ground cumin

1/2

teaspoon

salt

2

tbsp

Olive oil
Instructions
In a food processor combine the tahini and lemon juice and process for 1 minute

Add the olive oil, minced garlic, cumin, and a 1/2 teaspoon of salt to the whipped tahini and lemon juice. Process for one minute.  Add the chickpeas and process a couple of minutes. 

Add 2 to 3 tablespoons of water until you reach the perfect consistency. 

Taste for salt and adjust as needed. Serve hummus with a drizzle of olive oil and dash of sumac or paprika.